So much is going on this month with my latest product releases on Etsy and SMI Beauty & Bath Company. I have been doing some formulation for a new intention setting spray since my last designer perfume "Grace." For the spring/summer months Abundantia the Goddess of Abundance has made it to the SMI Collection.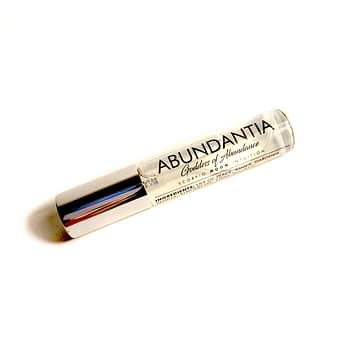 Experience the divine abundance of Abundantia with our range of products designed to bring prosperity, success, and wealth into your life. As the Goddess of Abundance, money-flow, and fortune, Abundantia is known to help protect your savings and investments, and even assist with major purchases. Her virtuous embodiment makes her the perfect companion for intention setting and manifesting abundance.
Bring her divine presence into your home with our room air freshener, car freshener, and linen & pillow freshener, infusing your surroundings with the energy of prosperity. Our perfume, cologne, and body mist range will keep you feeling refreshed and uplifted, reminding you of the abundance that is constantly flowing towards you.
Experience the power of Abundantia in your life, and invite the energy of wealth and prosperity to flourish with our range of products.
You can purchase this at:
Etsy – https://www.etsy.com/listing/1449649645/abundantia-goddess-of-abundance
SMI – https://smibeautyandbath.com/product/abundantia-goddess-of-abundance-intention-fragrance-spray-for-manifesting-success-fortune/
Also available as a candle!
Pyrite – Do you have financial anxiety? Do you lack focus and motivation when it comes to career goals and creative projects If you want to have more commitment and persistence in all your endeavors, the Pyrite stone is the crystal you need. When you incorporate the properties of the Pyrite meaning into your life, it's frequencies will give you the high energy and motivation you need to conquer any challenge and follow through with your goals. The ultimate symbol of wealth and good luck.
Citrine – Are you looking for the light at the end of the tunnel? Are you in search of a crystal to uplift your spirit and bring more positivity and happiness into your life? Are you working on attracting wealth and success but need a boost of confidence to go after what you want? The light-filled energy of a citrine stone is just what you need. Harness the energy of the sun to bring sunshine and light to all areas of your life. Keeping this stone close will help you keep your environment and energy feeling sunny and bright. Filled with positive energy, you can more easily connect to your inner light, as well as bring a sense of optimism to your endeavors.
Clear Quartz – The clear quartz crystal meaning is known for it's high vibrations. By learning your mind, body, and spirit of any clutter, a clear quartz crystal can help you align with your highest self and live at your highest potential. You can start the journey toward making it a reality. When you are ready to manifest the life of your dreams, call upon the energy of clear quartz to take your manifestation practice to the next level.
With the essential oils of Lily of Peace, Gardenia, Amber and Vanilla. This lovely manifestation candle will help you open up your energy or space to new ideas, expand creativity, and produce financial freedom!
You can purchase this candle at:
Etsy – https://www.etsy.com/listing/1426668291/manifestation-candle-scented-intention
SMI – https://smibeautyandbath.com/product/abundantia-goddess-of-abundance-candle-by-smi/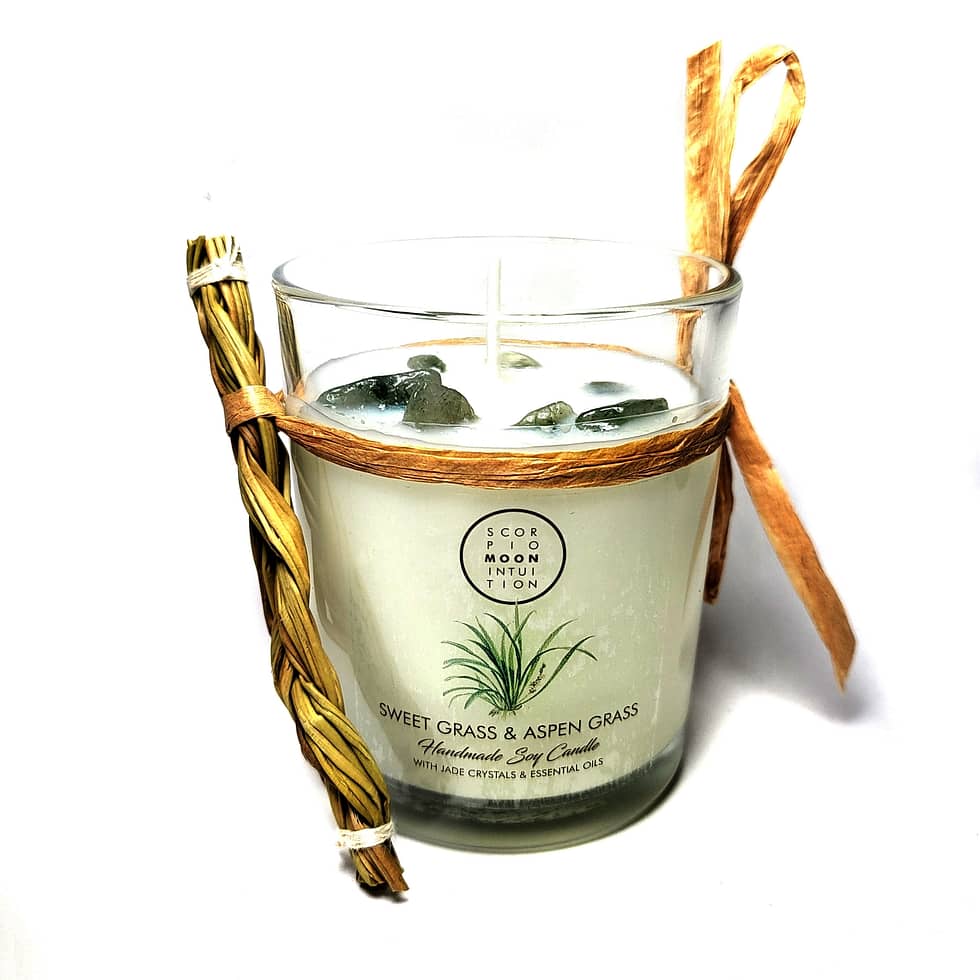 Indulge in the pure essence of nature with our Sweet Grass and Aspen Grass scented candle, infused with Jade crystals to enhance your senses. Our 100% soy wax candle is hand-poured with love and comes in an 7 oz. container, complete with a wooden lid, to keep the scent fresh and long-lasting. And, to truly capture the spirit of Sweet Grass, we've added a 4″ strand of Sweet Grass to the outside of the glass container.
The Sweet Grass scent is known to attract positive energy and blessings, representing the connection between people and nature. It's a powerful symbol of purity, peace, and harmony, and is often used in meditation to clear the mind and promote relaxation. The sweet smell of the grass attracts good spirits, while its bitter scent keeps evil away. Sweet Grass is also great for balancing all chakras, especially the heart chakra.
Jade crystal, a superstar in the world of crystal healing, adds an extra layer of meaning to our candle. Its powerful connection to the heart chakra promotes prosperity, abundance, and success. When you light our Sweet Grass and Aspen Grass scented candle, the Jade crystals within will infuse your space with the energy of good luck and positive transformation.
Each candle is reiki charged before shipping, ensuring that it's filled with positive energy and vibrations. Hand-crafted by SMI, this Sweet Grass and Aspen Grass scented candle is the perfect addition to your daily self-care routine. Experience the soothing essence of nature with our beautiful and calming candle.
You can purchase this candle at:
Etsy – https://www.etsy.com/listing/1433968000/sweet-grass-aspen-grass-scented-candle
SMI – https://smibeautyandbath.com/product/sweet-grass-aspen-grass-scented-candle-with-jade-crystals/